Hello i am new here. I dont know if its correct category but really i just trying 3 days to get working in Fifa19 that i installed with lutris 0.53. My runner options settings of running Fifa19 is in the picture below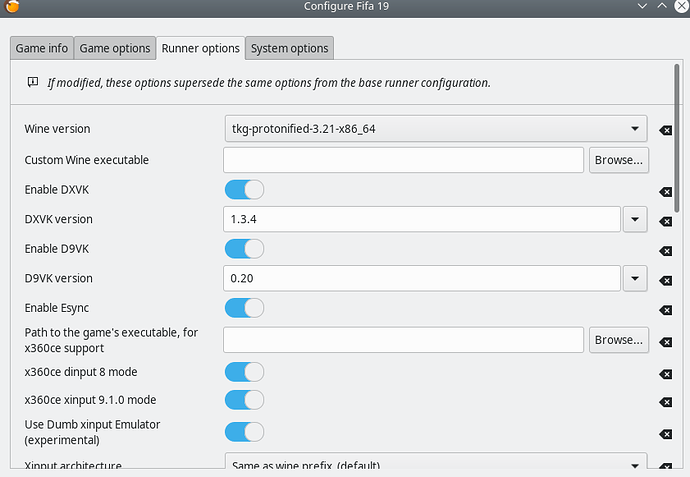 I Already installed a lot of things to get it work and tried a lot of suggestions that i found around internet but nothing seems to help.
Gamepad is working Fine at Steam Big Picture.
Also it is working fine at jtest-gtk> the one working its refering like ->USB GAMEPAD Device: /dev/input/js0
but there is also 4 more ->
Xbox 360 Wireless Receiver Device: /dev/input/js1
Xbox 360 Wireless Receiver Device: /dev/input/js2
Xbox 360 Wireless Receiver Device: /dev/input/js3
Xbox 360 Wireless Receiver Device: /dev/input/js4
Also it is working in the SDL2 Gamepad Tool in which i did all the keymaping and its working good. Like you see below.
SDL2 Gamepad Tool v1.2 by General Arcade (compiled with SDL version 2.0.7, DLL version 2.0.9)
Searching gamepads…
Found 5 gamepad(s):
"USB GAMEPAD", 03000000c01100000055000011010000 (mapping available)
"X360 Wireless Controller", 030000005e0400001907000000010000 (mapping available)
"X360 Wireless Controller", 030000005e0400001907000000010000 (mapping available)
"X360 Wireless Controller", 030000005e0400001907000000010000 (mapping available)
"X360 Wireless Controller", 030000005e0400001907000000010000 (mapping available)
Environment variable "SDL_GAMECONTROLLERCONFIG" is not defined
Checking if new mappings available from github: https://github.com/gabomdq/SDL_GameControllerDB
This the Libraries of Wine that i Override. dinput(native),dinput8(native),xinput1_3(native),xinput1_4(native),xinput9_1_0(native),d3d10(native),d3d10_1(native),d3d11(native),dxgi(native),crypt32(native)
But there is no Gamepad at the Wine Control panel
Tried the Dumb xinput Emulator
And also i know that the Gamepad was working fine one week ago when i installed pop_os,but now i needed to reinstall it because something wrong gone with the kde the first time. So now i just dont know what else to do to get it work… Any Help or Suggestion what should i dot will be Greatfull Thanks