Hey everyone!
Yesterday I dived into the new and fascination new world of gaming on linux and have set up Lutris with DXVK on Manjaro Cinnamon, connected to GOG and downloaded and installed The Witcher 3 - GOTY Edition. Even The game installed (tutorial) seems to run more or less flawlessly on my older GTX 760.
However I didn't got anywhere far into the game, because I wanted change the language. Somewhere I've read that Lutris/GOG automatically downloads only the English version, so I've done that manually.
Installed GOG Galaxy, downloaded russian language pack (1 exe-file 700 kb and 3 bin-files over 1 Gb each), was hoping to start them in the Witcher 3 prefix by clicking "run EXE inside wine prefix" and interestingly the patcher shows only 50 Mb to install finishes correctly, however no changes are visible in the game.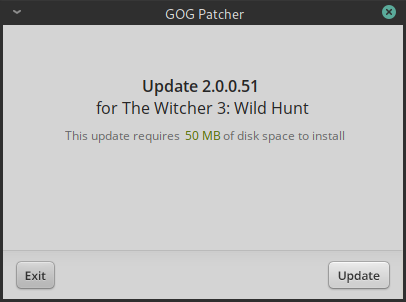 Has anybody experienced something like this? Is this about exe trying to read the bin files through wine?
Any suggestions?