Hi,
I'm trying to run the standalone (i.e. non-Steam) version of Warframe. The game installs and runs, but performance is bad and choppy to the point of being unplayable, even on the lowest settings. I'm wondering if this is to do with the fact that the game isn't using my laptop's dedicated graphics card, but the integrated one: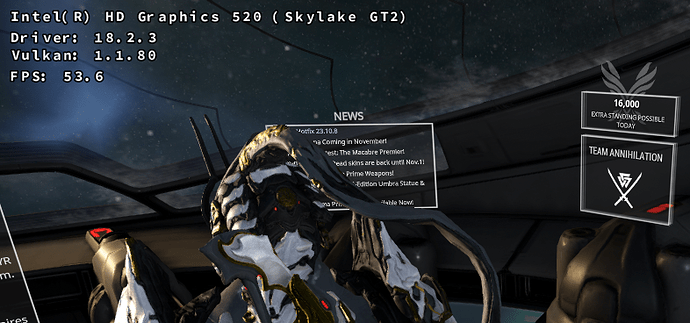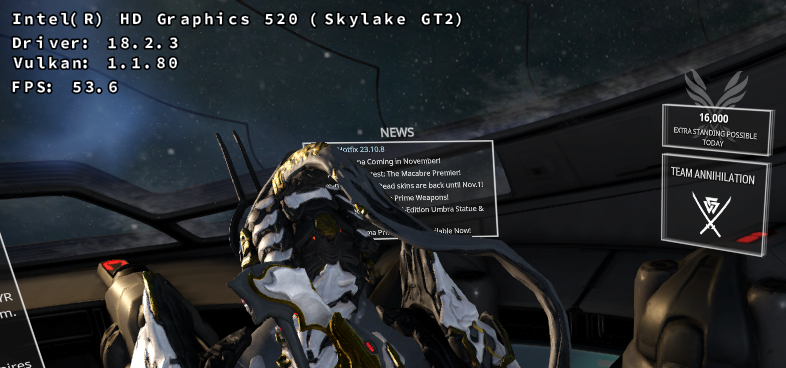 I'n the game's system options in Lutris I've checked "Use PRIME", but that isn't making Warframe use the AMD GPU, although DRI_PRIME=1 should work judging from the output of glxinfo:
$ glxinfo | grep "OpenGL renderer"
OpenGL renderer string: Mesa DRI Intel® HD Graphics 520 (Skylake GT2)
$ DRI_PRIME=1 glxinfo | grep "OpenGL renderer"
OpenGL renderer string: AMD HAINAN (DRM 2.50.0, 4.14.78-1-MANJARO, LLVM 7.0.0)
In case it'll help, here's the output of neofetch with my system information:
---
OS: Manjaro Linux x86_64
Host: 80S7 Lenovo YOGA 510-14ISK
Kernel: 4.14.78-1-MANJARO
Uptime: 3 hours, 42 mins
Packages: 1336 (pacman)
Shell: bash 4.4.23
Resolution: 1920x1080
DE: KDE
WM: KWin
Theme: Breath [KDE], Breath [GTK2/3]
Icons: breath [KDE], breath [GTK2/3]
Terminal: konsole
Terminal Font: Noto Mono
CPU: Intel i5-6200U (4) @ 2.
GPU: Intel Skylake GT2 [HD Graphics 520]
AMD ATI Radeon HD 8670A/8670M/
Memory: 3351MiB / 7833MiB
Thanks in advance for your help!