As in title, if you will be able to make it work - 20$ is yours (via paypal?)

I don't know if you knew this but Aion usees an anti-cheat program called (I think) Gameguard. I don't mean to be very negative, but I think you're not going to get any response to your bounty. Even if someone were able to fix the scripts that are available for Aion, your account would soon get banned for cheating. If you are trying to get away from using Windows your options are either dual boot Linux and Windows or create a Windows virtual machine using Linux as the host machine. If that is something you would be interested in I have included a link for a very good forum to learn more about this subject.
I fixed the script and spoke to their customer support about that. I contacted them because I thought I was banned for using Wine but when I made a ticket, that mentioned Wine, they didn't acknowledge it as the problem.
Read bottom to top.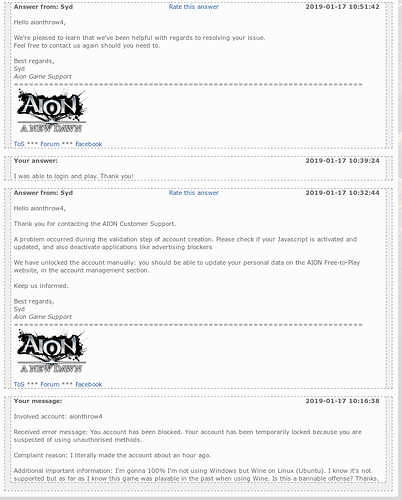 I'll take that $20 as a Steam wallet code @mirazi_heket
Well, I guess I was wrong, good luck @mirazi_heket, I really hope it works out for you.
As promised code sent to @cxf
Thanks a lot - it's working!
Did you really get it working with gameguard?
Back then yes, but i don't know if it works now - if nothing changed it should be working