Hello guys!
I'm a new linux user, so if u could give me some detailed help, I would apreciate. I was trying to play PoE in my Linux Mint 18.3 - 64 bit. I'm using a Asus Notebook, with a core i5 and a 1Gb Intel GPU card. At first i tryed to install it wtih PlayOnLinux. It didn't work. I was getting a (null) error after agreeing with the game terms and stuff. After that, I just purged PlayOnLinux and tried install directly via Wine, using a google tutorial, this one http://www.gamersonlinux.com/forum/threads/path-of-exile-guide.236/. And it didn't work aswell, I got the same error as in PlayOnLinux.
After all that fail, I kept searching for ways to install PoE in Linux and then I found Lutris. With Lutris it seems to go fine with the installation but, I just cant play the game. When I click to run it, Litrus returns this error: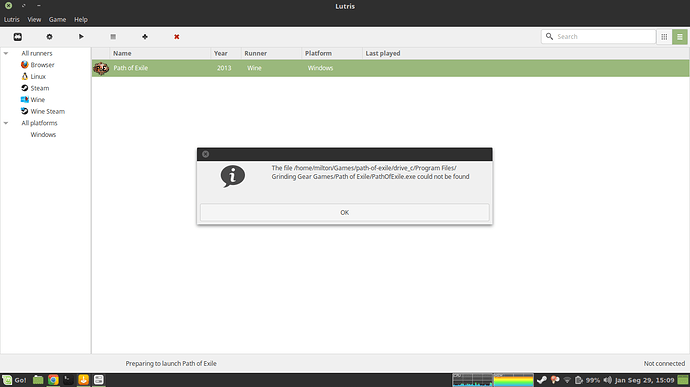 I couldn't find any help in the internet. I'm thinking that I'm having problems because, as I said before I tried to install it with other methods, and, as a noob linux user I was just clicking next in some cases, when PlayOnLinux asked to install Mono for exemple, and another stuff called Gecko, etc. As a result I think its possible that I just broke some packeges.
Hope someone can help me with it…