Below you can see a modified screenshot with the described changes and I look forward to see your opinions on this suggestion.
I want to apologize for the blurry image, but I made it in a hurry and I definettly need to improve my GIMP skills in the first place.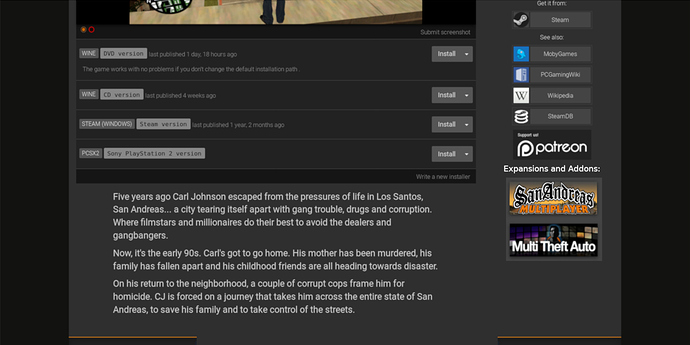 Hello everyone,
I have decided to open this topic just to have an open discussion about the webpage layout for games. First of all I want to say that this is just my personal opinion and I am not aware about the true reasons why the page looks the way it looks.
I made this topic with the sole purpose of contributing if I can at the overall ease of use and functionality of games webpage layout.
So the changes are just minor and they are aimed to improve the ease of use for users who for example have installed a game and they then need to find and install an Expansion or an Addon for that game. I was thinking that if there was a possibility in the "Suggest changes" panel for the comunity to link to other Lutris pages that contain those Expansions or Addons the user experience would be improved and navigating to the desired location would be easier.
Also there is another use case, for example a player may be aware of and wants to install GTA San Andreas, but he/she has no ideea that there is an Addon wich enables multiplayer, this proposal would mitigate that problem by informing the user there is a possibility if he wants to try it out.
In this moment if you search for Grand Theft Auto, you will find all GTA entries, but if you type San Andreas, you would find both GTA San Andreas and San Andreas Multiplayer, but with no mention of Multi Theft Auto, wich is another different Addon for the game.
This is just a single use case, but the change would work and benefit all the games that have linked content for them available on the Lutris platform, for example Warcraft III Reign of Chaos and it's expansion Frozen Throne, in this moment you would install it, then hit the back button, then hit the Frozen Throne entry from the list, and then installing. I believe having a linked entry in Reign of Chaos would be a simpler and straight forward path for the user.
Also I believe that by moving the Patreon button closer to the eyesight would improve the possibility for users who want to support the project to do so, but that is just a guess.
I tried to make my suggestion as simple as I could imagine both for the ease of use and for an easy implementation.
Thank you for reading this and giving your feedback!