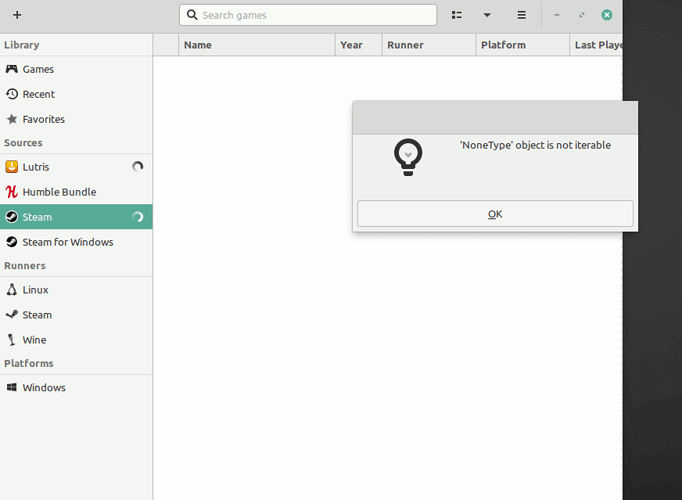 Ok so after I installed from root I figured out I had NTFS file system and ran gnome-disk and gave lutris user permissions to the entire disk I forgot to mention. Sorry, new Linux/Mint user here. Then after I did this, I ran my working root Tomb Raider I install from lutris to the user Lutris. Then that's when Lutris broke.
I can't get Lutris to forget my settings. I already tried a full purge of lutris and reinstall from build. I can't get lutris to install from the package manager, by the way. Linux Mint.
When I click the refresh steam games button, it pops up an error that usually says readonly database, but now it showing this message.
Is there a way to remove a config file somewhere?
[System]
OS:              Linux Mint 20.2 uma
Arch:            x86_64
Kernel:          5.4.0-89-generic
Desktop:         XFCE
Display Server:  x11

[CPU]
Vendor:          GenuineIntel
Model:           Intel(R) Core(TM) i7-6700 CPU @ 3.40GHz
Physical cores:  4
Logical cores:   8

[Memory]
RAM:             31.3 GB
Swap:            2.0 GB

[Graphics]
Vendor:          NVIDIA Corporation
OpenGL Renderer: GeForce GTX 1080/PCIe/SSE2
OpenGL Version:  4.6.0 NVIDIA 460.91.03
OpenGL Core:     4.6.0 NVIDIA 460.91.03
OpenGL ES:       OpenGL ES 3.2 NVIDIA 460.91.03
Vulkan:          Supported

I ran lutris -s to find out what goes on in the terminal:
ivywing@anonymous:~/Desktop$ lutris -s
2021-11-05 19:35:56,491: Starting Lutris 0.5.9.1
2021-11-05 19:35:56,535: No cores found
2021-11-05 19:35:57,565: Failed to read content length on response from https://api.github.com/repos/lutris/dxvk/releases
2021-11-05 19:35:58,204: Failed to read content length on response from https://api.github.com/repos/lutris/vkd3d/releases
2021-11-05 19:35:58,494: Startup complete
2021-11-05 19:35:58,495: Using NVIDIA drivers 460.91.03 for x86_64
2021-11-05 19:35:58,496: GPU: GeForce GTX 1080
2021-11-05 19:35:58,496: GPU: 10DE:1B80 1458:3702 (nvidia drivers)
Traceback (most recent call last):
  File "/usr/lib/python3/dist-packages/lutris/gui/application.py", line 348, in do_command_line
    self.print_steam_list(command_line)
  File "/usr/lib/python3/dist-packages/lutris/gui/application.py", line 598, in print_steam_list
    for path in steamapps_paths[platform]:
TypeError: 'dict_values' object is not subscriptable
Error in sys.excepthook:
Traceback (most recent call last):
  File "/usr/lib/python3/dist-packages/apport_python_hook.py", line 153, in apport_excepthook
    with os.fdopen(os.open(pr_filename,
FileNotFoundError: [Errno 2] No such file or directory: '/var/crash/_usr_games_lutris.1000.crash'

Original exception was:
Traceback (most recent call last):
  File "/usr/lib/python3/dist-packages/lutris/gui/application.py", line 348, in do_command_line
    self.print_steam_list(command_line)
  File "/usr/lib/python3/dist-packages/lutris/gui/application.py", line 598, in print_steam_list
    for path in steamapps_paths[platform]:
TypeError: 'dict_values' object is not subscriptable
2021-11-05 19:35:58,611: Shutting down Lutris