Hi. I can't install League of Legends I always get an error when I install it while this is a Platinum installer.
Here is my error: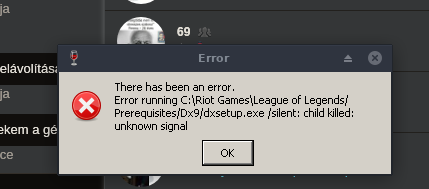 What I did?
Installed latest wine staging, mono, gecko, winetricks and lutris
Installed dx9 in wineprefix
System:
Distro: Ach Linux x86_64
Kernel: Kernel: 4.18.16-arch1-1-ARCH
Wine version (./wine prefix): wine-3.19 (Staging)
Any solution please? I so need help cause i wanna go to the lol party…
Thanks.