When running the battle.net client (using the Dox - All-in-One (July 2018) version script), I get a dialog that says: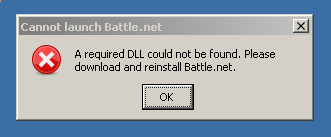 The logs for the game say only this. I know you can disregard the winemenubuilder error.
user.reg:696: Malformed value '"HDA NVidia HDMI/DP,pc"=3 (js)"="disabled"'
wine: cannot find L"C:\\windows\\system32\\winemenubuilder.exe"

System info:
Arch linux, everything up-to-date (updated just now)
I have the nvidia 32bit utils, wine-staging, and all the dependencies listed on github installed.
How do I fix this error?